Travel Information
You can travel to Vienna by
Plane: Vienna International Airport (VIE).
From the airport you can use
taxis (ride takes approximately 20-30 minutes),
busses (ride takes approximately 20-30 minutes, departure in front of the arrival area of VIE, several destinations available) or
train (roughly every 15 minutes).

The direct City Airport Train ("CAT", approximately 16 minutes, interval 30 minutes to "Wien Mitte/Landstraße", underground lines U3 and U4, S-trains, € 12/€ 19 return + ticket to your final destination) alternates with normal trains ("Schnellbahn" S7, ride takes approximately 25 minutes, interval 30 minutes, € 4.40/ € 8.80 return, ticket valid to your final destination within Vienna).
Train (ÖBB). Their are two major train stations:


Westbahnhof for trains from Germany, Switzerland and Western Europe.
Hauptbahnhof for trains from Slovenia, Italy, Hungary and Eastern Europe. Some trains from Western Europe may also arrive at Hauptbahnhof. You can also alight at "Wien Meidling" (one stop ahead of Hauptbahnhof) if your hotel is close to or western of the workshop venue.
Getting around in Vienna
Vienna has an efficient and relatively cheap public transport system. Within the inner districts they are usually (apart from biking) the quickest means of travel.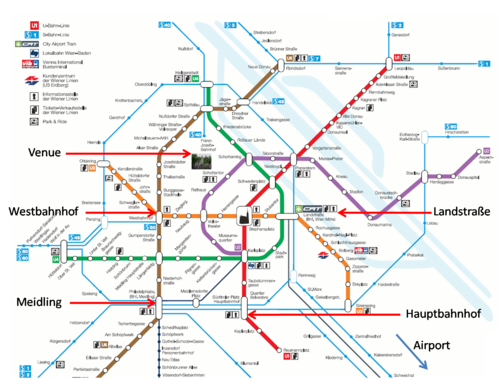 Underground runs from 5.00 to 0.30 in intervals of 3-5 minutes during the day and 5-10 minutes in the morning and evening, busses and trams in intervals of 5-10 minutes. On Friday and Saturday nights the underground services run the whole night (intervals 15 min). In addition there is a nightbus service which runs approximately along day-time tram and bus routes. All other nights there is a nightbus service which also includes underground routes.
A single ticket costs €2.20 (from one point to your final destinations nevermind the number of transfers but longer breaks are not permitted) within Vienna - all the stations on the map above. Caution: the airport is outside this zone ("Zone 100") , so you need another zone-ticket (€2.20). If you plan more than two rides per day, there are daily and weekly (only for a calender week - Monday to Sunday) tickets available.
Further information is available at:
The work-shop venue is at Währinger Straße 42 in the 9th district ("Währing"). It is served by tram lines 5, 33, 37, 38, 40, 41 and 42, station "Spitalgasse/Währingerstraße". Underground station "Währinger Straße", line U6 (brown), is within 7 minutes walking distance. Alternatively you can use tram lines 40, 41 or 42 (two stations) to get there. Underground line U2 (purple), station "Schottentor" is connected with the work-shop venue by tram lines 37, 38, 40, 41 and 42. Underground line U4 (green) station "Friedensbrücke" is connected with the work-shop venue by tram lines 5 and 33.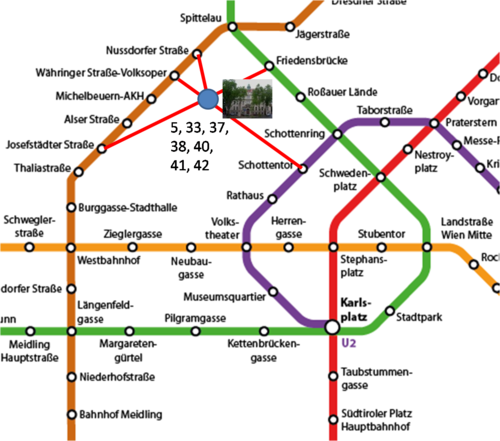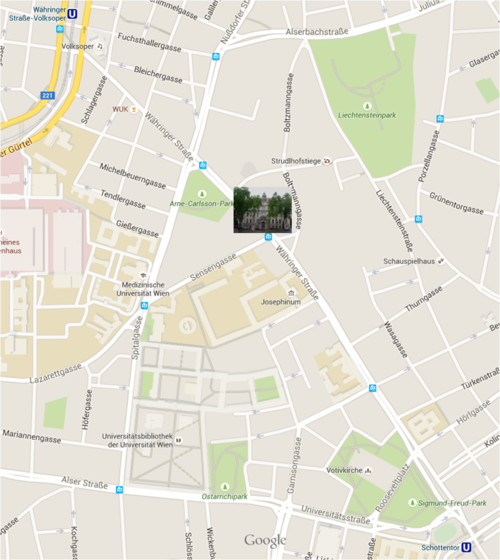 Institut für Materialchemie & Forschung
Währingerstraße 42
1090 Wien
T: +43-1-4277-713 01
E-Mail